Download theofficial RIHANNA – UNAPOLOGETIC live wallpaper for android mobile.
This comes packed full of goodies. Features of this live wallpaper app :
– The Diamond's ringtone from Rihanna's latest No. 1 hit
– An interactive & animated Unapologetic album cover
– Integrated text, email, missed call notifications
– Rihanna's tweets and concert info
ALL this directly available on your mobile homescreen!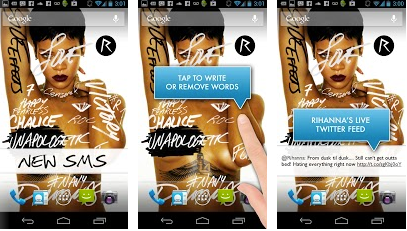 Free Rihanna Live Wallpaper is one of the Best Android App for live wallpaper your android mobile. This free android application is listed under personalization apps in Google Android Market. The app has 100,000 – 500,000 downloads since its launch. The latest version of this android app (version 1.1) was released by the developer on January 9, 2013 and requires ANDROID version 2.3 and up to be installed on your android device.
This android app is rated 4.3 at the time of writing this post. This android app will require approx 5.2 M of free space on your device for installation. Download this best android app for free from Google android market.