Whatsapp Messenger for chat is the best android app for chat with SMS contacts. Download this top android app on your android mobile for FREE. This awesome app offer the freedom of chat across mobile networks. WhatsApp Messenger is available for Android, Blackberry, iPhone, and Nokia phones.
How to activate free calling feature on Whatsapp :
– Download and install latest version (2.11.561) of the app
– Get someone with calling activated to call you from the app
– Voila ! your whatsapp will be activated for voice calling
One of the most important update on the app. You can now send and receive WhatsApp messages right from your computer's browser. To get started, visit web.whatsapp.com on your computer.
WhatsApp uses your internet connection to message with your mobile contacts. This android app for tablet and mobile currently free for first year. There is no added cost to send an international email, there is no cost to send WhatsApp messages internationally. Chat with your friends all over the world as long as they have WhatsApp Messenger installed and avoid those pesky international SMS costs.
Features of Whatsapp ICS Android Application :
– Send a million messages a day to your friends for free!
– Send Video, Images, and Voice notes
– Enjoy group conversations
– No added cost to send an international email
– WhatsApp Android Application is ALWAYS ON and ALWAYS CONNECTED.
– Emoji picker with expanded symbols


Best messaging app by a mile. Shows you delivered and read on simple single and double ticks. It is the fastest most reliable and best android chat app. But It ask for multiple permissions while installing.Once the app is installed there is no need to enter a password or launch the application, as you would with other SMS programs.
Updates in the Whatsapp Messenger for ICS Android 4.0 :
– Improvements to phone number verification
– Media upload bug fix
– Updated localization
– Group chat limit raised to 30 people.
– Improvements to video recording and playback
– "only when screen off" setting for notification popup
– Ability to upload a profile photo
– Add quick reply functionality to the popup notification
– Updated localizations across all languages. Brazil Portuguese re-instated
– Fixed contact ordering problem in WhatsApp Contacts screen while sharing
– Fixed contact photo missing in some instances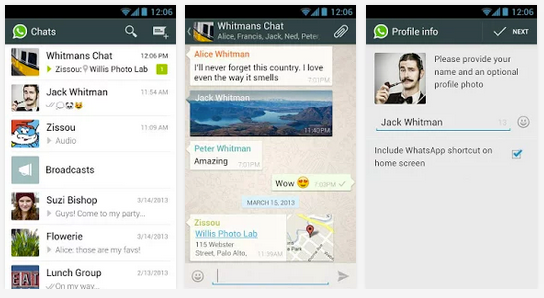 – Fixed "Enter Key is Send" on some handsets
– Added recent locations feature in group chat info
– Added localization for Arabic, Simplified Chinese, Greek (Thanks Iris!)
– Add ability to pay for a friend's WhatsApp service
– Add large video thumbnails in chat
– Add option to show unread messages on home screen widget (Android 3.0+)
– Add option to share/save profile photo/group icon
– Remove Send Logs in Settings. Please use Contact Us in the About menu
– Green avatar for individual contact, Blue avatar for group contact.
– Contact visibility settings and improvements especially with SIM contacts on LG phones.
– Whatsapp Android app is now compatible with android Jelly bean 4.1 OS.
– Group owner can remove a member from group
– Display push name in group chat with unknown phone numbers
– Fix for unable to send message when there are less than 7 days remaining of service.
– Adopt google play in-app purchase for service extension

Whatsapp Messenger Android App is the best android Android App for free SMS for your android mobile. This is a free android application is last updated on 19 February 2015 by the developer. The latest version of this android app is 2.11.186 and requires ANDROID version 2.1 and up to be installed on your android device.
This app is currently trending in Android Market under android apps for chat and has 500,000,000 – 1,000,000,000 installations since its launch.
This android app will require approx 14.0 M of free space on your device for installation. This android app is rated 4.4 in google store with 23,370,788 reviews at the time of writing this post. You can download official android app for whatsapp messenger free android app from Google play store.