Make free Skype-to-Skype video calls, and call phones at Skype rates on the move with Skype Video Android Application. Download this best android app now for FREE. An update of Skype's Android application now enables you to make one-to-one video calls over both WiFi and 3G connections. Make free Skype-to-Skype calls and video calls or call phones and landlines at great Skype rates on the go.
New Video Messaging feature allow you to Record a video and send to friends and family on Skype, even when they're unavailable.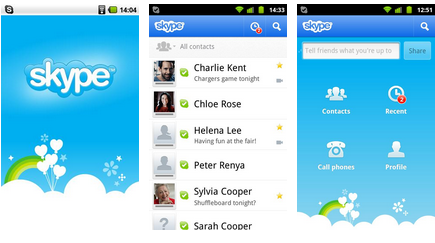 Your android mobile or tablet needs to be running Android Version 2.3 (or above) and have a front-facing camera.
– Free* Skype-to-Skype IM, calls and video calls over 3G or WiFi
– Cheap calls and texts to landlines or mobiles at great Skype rates
– Instant message friends at the same time
– Some handsets may not be supported
– You need Android v2.2 to run Skype on a Samsung Galaxy S
– Two way video calling is supported on the following handsets: Google Nexus S, HTC Desire S, Sony Ericsson Xperia neo, Sony Ericsson Xperia pro.
– Now, you can now send SMS messages from the Android app.
– Data plan or WiFi connection required

Neil Stevens, Skype's vice president and general manager for product and marketing, says approximately 30 million concurrent users log into Skype at any given time and make up to half a million simultaneous video calls.Tablet owners rejoice! Now you get a totally new version of Skype too, including a modern design and performance improvements.
Updates in various versions:
– Send pictures, videos and files
– Easier to sign out, and auto-sign in
– Improved look and feel with new graphics
– Voicemail improvements
– Better video quality on Tegra 2 devices
– Start-up issues on Android 2.1
– Fix for occasional white screen
– Video orientation on Galaxy Nexus
– Restyled instant messaging view
– Video rotation support for many more devices
– Faster app start up
– Video quality improvements – calls are clearer and higher resolution.
– Picture-in-Picture lets you see your video call even when you switch to other apps.
– LSimply pinch your contact list to zoom out to an alphabet, then tap a letter to zoom in.
Important : Android mobiles running Android 2.2 will only be able to use the rear-facing camera. Devices with Android 2.3 or higher will be able to use both front and rear-facing cameras for Skype Video Android App. Leave Skype running all day with no noticeable battery drain. To achieve these amazing savings, we've temporarily turned off push notification of group chat messages.
Skype Video Android App is last updated on March 18, 2014 and is currently trending under Communication android apps and already has 100,000,000 – 500,000,000 installations. This android app is rated 4.0 by 3,249,554 reviews at the time of writing this post. Download the latest version this best android app for free or point your browser to Skype.com/m from your phone.