Google Maps Android Application is best android application for offline maps. Download this official android app whether you need directions to your destination, the closest good place for a bite to eat, or just a sense of where you are, Google Maps for Android can help. Download the latest release of Google Maps, and never carry a paper map again.

Features of Maps for Android with Navigation (Beta) has:
* Detailed maps with 3D buildings
* Voice guided turn-by-turn GPS navigation
* Driving, public transit, biking, and walking directions
* Live traffic information to avoid congestion
* Local search and business reviews
* Google Maps Street View
* Indoor maps for select airports, hotels, retail stores, and more
* Comprehensive, accurate maps in 200 countries
* Voice-guided GPS navigation for driving, cycling and walking
* Public transport directions and maps for over 800 cities
* Detailed information on more than 100 million places
* Street View and indoor imagery for restaurants, museums and more

What's in the latest version of Google Maps Application:
– Access your desktop and mobile search history through My Places.
– Single-handed zoom; double tap, then hold down your finger and slide to zoom.
– Discover nearby Google Offers in the US
– Indoor walking directions (Beta) for Japan and the US
– See 360° panoramas inside restaurants and stores
– Get there faster with real-time updates
– Beat traffic with real-time navigation, ETAs and traffic conditions
– Catch your bus, train, or ride-share with real-time transit info
– Save time with automatic re-routing based on live traffic, road closures and traffic incidents
– Navigation with lane guidance so you don't miss a turn or exit
– Find pit stops along your route like gas stations and coffee spots
– Discover places and explore like a local
– Find top-rated restaurants and local businesses, wherever you are
– Decide on the best places to go with reviews, ratings, and pictures of foods and interiors
– Plan your visit and see menus, make reservations, and find when places are typically busiest
– Help others discover the best places by sharing reviews, photos and more
– Save places you want to or often visit, and quickly find them later from any computer or device
Also check out the other Google official apps :
– Google Plus android Application
– Google Analytics Android App
– Google Earth Android App
– Google Wallet Android App
– Google Drive Android App
– Gmail Android App
– Youtube Android Application
Updates in latest version :
• Turn-by-turn navigation now displays distance, arrival time, and quick access to alternate routes
• Save and manage offline maps in a custom list for when you're traveling or have a slow connection
• Transit results now display total walking time of your trip and the next scheduled bus or train
• Sign in to see your "Places to review" list from recently saved or searched-for places
• Hindi now supported, including voice navigation
• Improved navigation notifications on Android Wear devices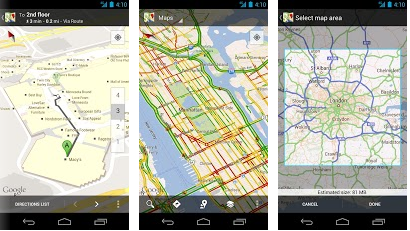 Google Maps Application is one of the Best Android Application for maps on your android mobile & is last updated on 15 December 2017. Googple maps are currently trending under travel & local android apps and has 1,000,000,000 – 5,000,000,000 installations since its launch. Whether you need directions to your destination, the closest good place for a bite to eat, or just a sense of where you are, Google Maps for Android can help.
This free android application is rated 4.3 with 8,648,533 reviews at the time of writing this post. You can download this top android app for free.