Foodspotting Android Application is a free app for android mobile and android tablet for finding and recommending great dishes and not just restaurants. Foodspotting android is a visual guide to good food and where to find it. This app aims to make decision-making easier.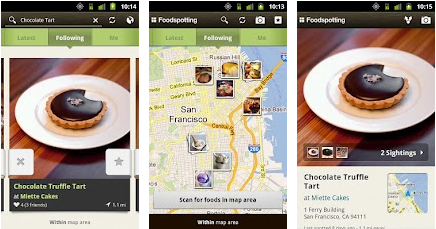 Features of Foodspotting Android Application :
– Discover nearby dishes, find whatever you're craving & see what's good at any restaurant.
– It makes finding good food as easy as looking in a bakery window.
– Keep track of the dishes you try and vote up the dishes you love.
– Bookmark dishes you want to try and hide the ones you don't.
– Get the lowdown on all the dishes at a spot on the map and go directly to the Place or Dish details
– Explore a Place's neighborhood right from the Place page's interactive map
– Dive into 3D building views and multi-floor indoor maps with Google's new maps
– See what friends and experts, like the Travel Channel, love wherever you go.
– See any notes spotters have written about a dish right on the dish detail page
– Access Yelp, OpenTable, Menu via SinglePlatform, GrubHub, Directions, etc. from the dish detail page as well
– See all the dishes at a place sorted by most popular or latest reviews from the place detail page
– Pick photos from your gallery or third party apps like Dropbox
What's in this version of Foodspotting Android Application:
– Upload to Foodspotting from the Gallery/Camera
– Fixes for login & upload issues, ICS UI fixes
– You can now personalize Foodspotting
– Bookmark dishes you want to try
– Hide the ones you're not that into
– See what friends & experts love wherever you go
– Vote up dishes you love
Foodspotting Android Application is for travel recommendation on android mobile. This free android application is listed under travel & local apps & has 1,000,000 – 5,000,000 downloads since its launch. The latest version of this android app (version 3.8.5) was released by the developer on 23 December 2013.
This android app is rated 4.0 with 7,723 reviews & require approx 2.1 M of free space on your device for installation. Download this best android app for free from Google.