Download Expedia Android Application and enjoy real-time hotel searches, easy filtering, gorgeous graphics, and super-simple booking – all FREE with the Expedia Hotels app.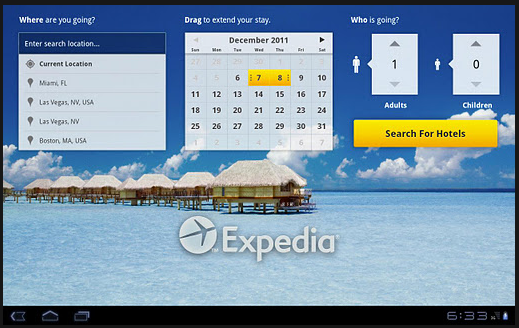 Features of Expedia Android Application for hotel bookings:
• Optimized for android tablets (3.0 & above)
• Find amazing deals at 130,000 hotels worldwide
• Swipe through gorgeous, hi-res photos of hotels and see lobbies, rooms, pools and more
• See all available hotels in your vicinity using GPS location
• Book a room for same day or book your stay weeks out
• Filter by price, distance, hotel name, and traveler rating
• Compare multiple hotel details and locations in just one tap
• Localized for 19 languages
• Book securely in just four taps
• Read honest reviews from 4 million travelers
• View amenities and descriptions for every hotel
• Book once with the app, and your info is saved for faster future bookings
Updates in the latest version:
– Mobile-Exclusive Deals in over 250 cities around the world.
– View full-size hotel images simply by swiping down on the photo
– Save big with mobile-exclusive hotel deals
– Take a road trip and find the coolest hotel along the way
– Book a room in seconds if your trip goes wrong…or right
– Verified reviews mean you know you're getting a great room
– Enjoy the best flight booking experience anywhere on your phone (tablet coming soon!)
– Browse beautiful photos of the best deals near you
– Book in under 30 seconds with lightning-fast checkout
New Expedia app for Android tablets!
● Simply start your search with a destination. No dates required.
● See hotel and flight search results side by side.
● Find the best flight and hotel faster with new filter options.
● Explore our curated travel collections and discover new destinations.
This best android app is listed under travel android apps and has 10,000,000 – 50,000,000 installations since its launch. This android app will require approx 8.8 M of free space on your device for installation.
The latest version of this travel app was released on September 25, 2014 and has a rating of 4.0 with 43,146 user reviews. Download this free android app now.