This Live Wallpaper (LWP) is perfect for all football fans, equipped with the official FIFA World CupTM logo and the national flags of every country taking part in the most massive sporting event of 2014!
Features of FIFA World Cup 2014 App for Live wallpaper
* Free to download!
* Select between 200+ Country flags for ALL participating leagues!
* Add up to 5 match footballs to the screen at any-one-time!
* Choose between classic adidas FIFA World CupTM Balls!
* Center field changes to match your chosen team colors, adidas logo, and 2014 FIFA World CupTM logo!
* Made with official release software to ensure quality and performance.
* Officially licensed release from adidas, sponsors of the 2014 FIFA World Cup Brazil TM.
* BRAZUCA, THE OFFICIAL MATCH BALL
* Animated video plays every time you unlock your screen!
* 360 degree Maracanã Estádio photo spherical view!
* Select between 32 qualifying countries!
* TEXT, EMAIL and missed call notifications with audio!
NEW: Brazuca Mode/Stadium Pitch Mode
NEW: 360 degree Maracanã Estádio photo spherical view!
NEW: Select between 32 qualifying countries!
Official Adidas FIFA World Cup 2014 App is one of the Best app for Football lovers & is last updated on June 10, 2014 by the developer. The latest version of this android app is 3.25 and requires ANDROID version 2.1 and up to be installed on your android device.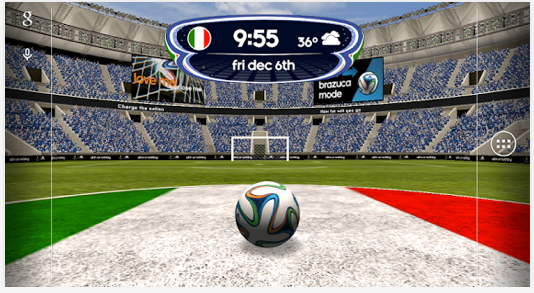 This best android app is currently trending under casual android apps and has 1,000,000 – 5,000,000 installations since its launch. This android app will require approx 18M of free space on your device for installation & is rated 4.4 with 39,021 reviews.
You can download this free android app from Google play store.