Build a social network around all forms of digital content including: text, photos, videos, voice-notes and music. You can create, share and follow digital content using Pheed android app.
Features of Pheed android app:
● Capture and share high resolution photos in any size, no cropping
● Upload photo albums in a single pheed
● Capture, record and share high definition videos with no time limit
● Record and share sound, voice notes and audio clips with no time limit
● Your content remains yours – protect all your content with the copyright feature (all media will be marked as copyrighted with your name)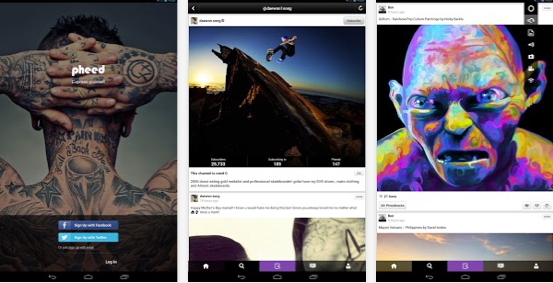 ● 420 characters to share more of your thoughts
● Promote pheeds using hashtags like #pheedthaworld, #phamily, #pheed
● Search for pheeds (posts) and view the latest featured content on Pheed
● "Love" or "Heartache" pheeds and share your pheedback
Pheed is a free social network for the wild at heart that lets you create, share and inspire your friends and others. You have the option to place a monthly (30day) subscription fee on your Pheed channel (users will have to pay you to access your content, you can select your paywall anywhere from $1.99 to $34.99)
What's New in the latest update of this app:
* Sign Up process has been made smoother and faster, you can now invite friends and family from your contacts
* Improvements to the look and feel of the Search
* Notifications now with Activity, allowing you to see what channels you're subscribing to are doing on Pheed
Pheed Android App is one of the Best Android Application for social network on your android mobile. This free android application is last updated on October 8, 2013 by the developer. The latest version of this android app is 1.0.5.1 and requires ANDROID version 2.3.3 and up to be installed on your android device.
This best android app is currently trending in Android Market under social android apps and has 100,000 – 500,000 installations since its launch. This android app will require approx 4.0 M of free space on your device for installation. This free android application is rated 4.5 with 2,612 reviews in google android market at the time of writing this post.
You can download this free android app from Google play store.