Dubbler android app is a sound of a revolution in social networking. This app allows you to record your voice up to 60 seconds, tweak and change your Dub with our voice filters. You can then post your clip to Facebook, Twitter, Tumblr and the Dubbler community to hear.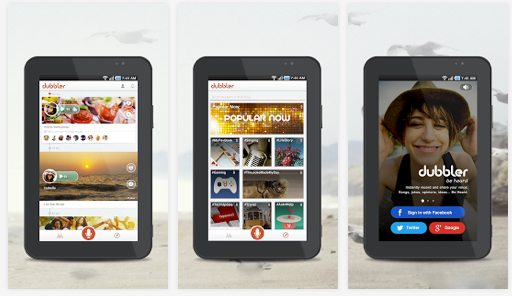 You could even create a character with one of our voice filters. There's a thousand things to do with those effects. If you're a little shy, you could transform your voice completely. They're great for chibi and avatars. Dubbler puts your distinct audio stamp on all your social media.
What's New for Dubble android app for Sharing Voice Messages
● The Dub Vader filter! Check it out!
● Scroll and auto play – way easier for consumption (turn on/off in Settings)
● Improvements to the people search functionality
● Better suggestions on who you should follow in Dubbler
● More Dubbler Channels: follow Dubbler Music, Tech, Games, Comedy, Brasil and Espanol!
● Optimizations to the user experience
Dubble android app is one of the Best Android Application for social networking on your android mobile. This free android application is last updated on July 2, 2013 by the developer. The latest version of this android app is 2.2 and requires ANDROID version 2.3.3 and up to be installed on your android device.
This best android app is currently trending in Android Market under casual android apps and has 100,000 – 500,000 installations since its launch. This android app will require approx 12M of free space on your device for installation. This free android application is rated 4.4 in google android market at the time of writing this post.
You can download this free android app from Google play store.