Instagram for android is a beautiful way to share your world. It's fast, free and fun! 

Pick from one of several gorgeous filtered effects to breathe a new life into your mobile photos. Transform everyday moments into works of art you'll want to share with friends and family.

 Instagram Direct, a new way to send photo and video messages to your friends.
Share your photos in a simple photo stream with friends to see – and follow your friends' photos with the click of a single button. Every day you open up Instagram, you'll see new photos from your closest friends, and creative people from around the world.


Features of Instagram Android Application
:

– 100% free custom designed filters and borders
– Lux works its magic by making your photos more vibrant and brings out details in your photos you couldn't see before
– Instant sharing to Facebook, Twitter, Tumblr, and Foursquare

- Interact with friends through giving & receiving likes and comments

- Works with Android versions 2.2 and above that support OpenGL ES 2
– Full front & back camera support

– 100 million users love Instagram!
☆ And much much more…
How to use Instagram Android Application for Photography :
Snap a picture, choose a filter to transform its look and feel, then post to Instagram. Share to Facebook, Twitter, and Tumblr too – it's as easy as pie. It's photo sharing, reinvented.
1. Download the Instagram app
2. After installing the app, open it on your device
3. Tap the "Sign up" button to begin the account creation process. You can register to Instagram only through the app, it is not possible to sign up on instagram website.
Known Issue : "Photo is too small" error message
Solution : Taking pictures with your primary outward-facing camera, checking that your camera's resolution is set to the highest resolution possible, and not cropping images too closely to avoid this error.
What's in this version of Instagram Android Application:
• Introducing Photos of You! Add people to your photos & share who's with you
• Significantly improved quality of uploaded photos (for devices on Ice Cream Sandwich & above)
• Grid guides for the camera
• Improved password recovery
• Redesigned registration flow
• Fixes bugs for the front facing camera while using the advanced camera
• Improves reliability of photo filters for certain Galaxy Y and Ace devices (GT-S5570I, GT-S5363, GT-S5367, GT-S6102, GT-S6102B)
• Introducing two new creative tools to give you even more ways to edit and enhance your photos.
• Color tool: adds a color overlay to your shadows or highlights.
• Fade tool: gives your photos an aged film effect.
• Improved reliability for offline photo posting
• Photo Maps, new way of browsing photos on a map
• New design for user profiles and many other parts of Instagram
• It's now easier to write longer captions when sharing photos
* Automatically straighten your photos when you take them with the Instagram camera
* Simplified video settings to give you more control when sound plays
* Added setting to help you control data usage when watching video
– When you find a hashtag you like, open the hashtag page and tap on the follow button.
– You'll begin seeing top posts from that hashtag in your feed and some of the latest stories in your stories bar.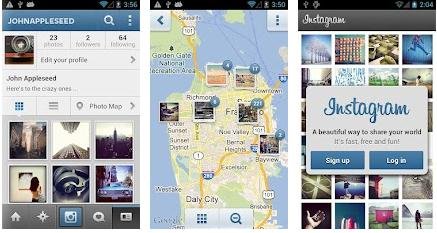 Instagram is one of the Best Social Apps for Android. This free android application is last updated on 19 December 2017 by the developer.
This best android app is currently trending in Android Market under social android apps and has 1,000,000,000 – 5,000,000,000 installations since its launch. This android app will require approx 17 M of free space on your device for installation. This free android application is rated 4.5 with 57,848,122 reviews in google android market at the time of writing this post.
You can download this free android app from Google android market.