Fancy is the place to discover, collect and buy from a crowd-curated catalog of amazing goods, wonderful places and great stores. Download this android application and discover deals in areas around you.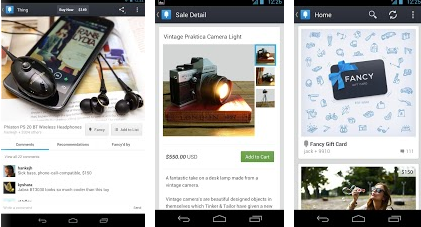 Part store, magazine and wishlist, Fancy is the best place to buy great things. Use Fancy to find a gift for any occasion and share your favorite discoveries with all your friends
Fancy Flash Sale Android Application is one of the top Android Application for shopping on your android mobile. This free android application is last updated on February 13, 2014 by the developer. The latest version of this android app is 2.52.1 and requires ANDROID version 2.3.3 and up to be installed on your android device.
Updates in the latest version:
– New and Improved Thing Page
– Buy your favorite things with Bitcoin!
– New Checkout Page
– Support upload from Kitkat's new Document Chooser
– Google Wallet supports International Shipping
– App Drawer
This best android app is currently trending in Android Market under shopping android apps and has 1,000,000 – 5,000,000 installations since its launch. This android app will require approx 7.0 M of free space on your device for installation. This free android application is rated 4.4 with 24,031 reviews in google store at the time of writing this post.
You can download this free android app from Google android market.