Download the Airbnb Android App and opens the door to the world's most interesting places to stay and is the simplest way to earn money from your extra space.
With over 450,000 listings in more than 34,000 cities, Airbnb connects you with the experience that's right for you. Message hosts and guests, gush over your itinerary, explore fairytale destinations, and add unforgettable digs to your Wish List.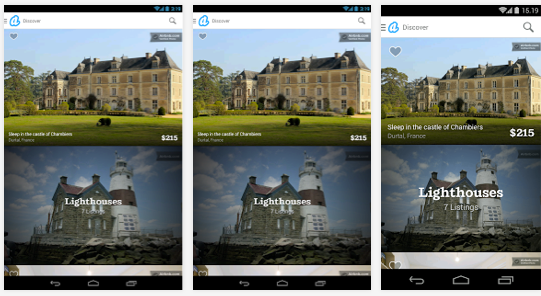 Travelers can use this free travel app & start traveling the world with a few simple taps.
• Discover thousands of places to stay in more than 34,000 cities
• Book one-of-a-kind accommodations and find rooms for rent directly from your Android phone or Tablet
• Search for last-minute accommodations anywhere in the world
• Find long-term sublets in thousands of cities
• Access your itinerary, message your host, and get directions to your listing
• Explore legendary properties, vacation homes, and apartments, and add them to your Wish List to share with your friends
Owners of property can manage the listing and connect with guests from across the world.
• List your space and manage your listing directly from your phone
• Get acquainted with potential guests before you say yes
• Accept, decline, pre-approve, and send special offers to guests on the go
Updates in the latest verion of Aitbnb android app :
· Easily manage inquiries and reply to guests from a brand-new Host Home.
· Learn about Hospitality Standards and discover how to give guests their most memorable trips.
· Access Groups and join the community.
Airbnb Android application is one of the Best Android App for travel on your android mobile. This free android application is listed under travel apps in Google Android Market. The app has 500,000 – 1,000,000 downloads since its launch.
The latest version of this android app was released by the developer on November 15, 2013 and requires ANDROID version 2.2 and up to be installed on your android device.
This android app is rated 4.2 with 5,119 reviews at the time of writing this post. This android app will require varied free space on your device for installation depending on device & android version. Download this best android app for free from Google play store.