Facebook Home is the mobile experience that puts your friends at the heart of your phone. From the moment you turn it on, you see a steady stream of friends' posts and photos on your home screen. Facebook Home is currently available for a select of Android devices — including the HTC One X, HTC One X+, the Samsung Galaxy S III and the Samsung Galaxy Note II, it's also launching alongside the HTC First.
Features of Facebook Home App:
• Glance at your phone for the latest photos and posts from your friends
• With chat heads and Facebook Messenger, you can keep chatting when you're using other apps
• See news as it happens with bigger, bolder notifications
• Get right to Facebook, Instagram and other essentials
• Swipe through to see more, double tap to like a post, and comment right from cover feed.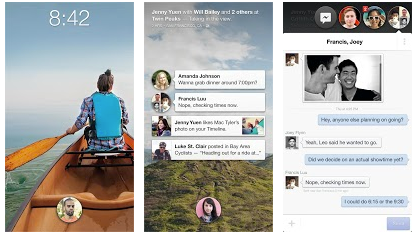 Important : Google Play is only allowing owners of the four mentioned smartphones to download the app. But if your android phone isn't compatible with Facebook Home, The Chat Heads feature one of the most compelling and unique part of Facebook Home is available in the recently updated version of Facebook Messenger for Android Also Install the latest Facebook app for android for the full Home experience.
Other major features of Facebook Home :
– Cover Feed: As soon as you turn on your phone, you see posts from your News Feed.
– Chat Heads and Messenger: Install Messenger to send and receive texts and Facebook messages from the same spot.
– App Launcher: Launch your favorite apps and post to Facebook
– Notifications : Notifications from Facebook appear right on your home screen

Facebook Home android App is one of the Best Android Application for facebook ICS on your android mobile. This free android application is last updated on 13 January 2014 by the developer. The latest version of this android app is 1.2 and requires ANDROID version 4.0 and up to be installed on your android device. This best android app is currently trending in Android Market under social android apps with 1,000,000 – 5,000,000 downloads.
Updates in the latest version includes:
• Swipe down to unlock
• View the time, weather and notifications on your lock screen
• Swipe to browse photos and posts from your lock screen
• Choose from new photo categories to customize your wallpaper
• Shortcut to Cover Feed on your launcher
This android app will require approx 7.5 M of free space on your device for installation. You can download facebook home app from Google android market.