ChaCha Q&A app is a unique android app with location-based services. ChaCha has answered over 2 Billion Questions and owns the world's largest Q&A database and you can browse the questions sked near your location.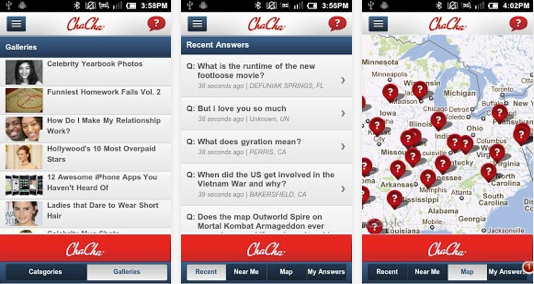 Features of ChaCha Android app
– Ask any Question anytime, anywhere!
– 'Near Me' & Real-time map feature allows you to browse all Questions being asked near your location
– Browse ChaCha.com's entertaining photo galleries!
– You can use Shortcuts to get to quick joke or riddle to stump your friend.
– Contribute back by Rate a Answers feature. You can flag an incorrect answer or promote a great one!
– Sign up for nearly 70 ChaCha text alerts based on your schedule & favorite topics
– Share a great Answer with friends via Facebook, text, and email
Frequent travelers can used this app every day more than once to get around the city, find out show times and prices. It can be more helpful than concierge as you get the real people answering your real queries in real time 🙂
ChaCha Location based Q&A App is one of the Best Android App for travel languages on your android mobile. This free android application is listed under travel apps in Google Android Market. The app has 100,000 – 500,000 downloads since its launch.
The latest version of this android app (version 4.4 ) requires ANDROID version 2.2 and up to be installed on your android device. This android app is rated 3.4 with 1,123 reviews at the time of writing this post. This android app will require varied free space on your device for installation depending on device & android version. Download this best android app for free from Google play store.