Download 500px Photo Social Network App for free and be the part of the most inspiring photo social network! With the 500px app you can elegantly showcase your best photos, create slideshows, browse your friends' photos and discover the beauty of the world around us.
Features of this social network:
✔ Most inspiring photos in the world
✔ Browse Flow, Popular, Editors Choice, Upcoming & Fresh
✔ Follow photographers — daily dose of inspiration
✔ Find Friends — find and follow friends from Twitter and Facebook
✔ Push notifications — get instant feedback on the go
✔ View photo descriptions and EXIF information — learn from the pros
✔ Create slideshows — looks amazing on tablets and TV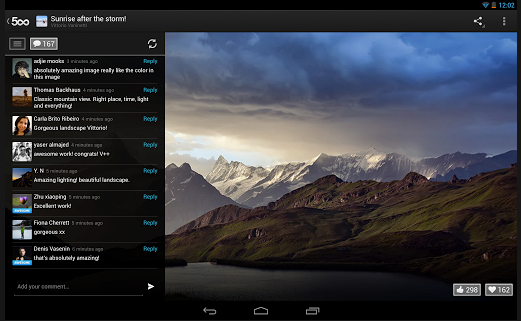 500px Photo Social Network App is one of the Best Android App for social networking over photography on your android mobile. This free android application is listed under social apps in Google Android Market. The app has 500,000 – 1,000,000 downloads since its launch. The latest version of this android app (version 1.9.5) was released by the developer on May 9, 2013 and requires ANDROID version 2.2 and up to be installed on your android device.
This android app is rated 4.0 with 4,286 reviews at the time of writing this post. This android app will require approx 2.7 M of free space on your device for installation. Download this best android app for free from Google android market.