Springpad Android App makes it easy to save notes, products and places you want to remember on your android tablet and android mobile. Download this app for better time management. Springpad is a free android application and it is a easy way to take notes and save anything you want to remember at one place. You may save tasks, lists, places, movies, recipes etc. This best android app synchronize everything you save on your android device and on the web.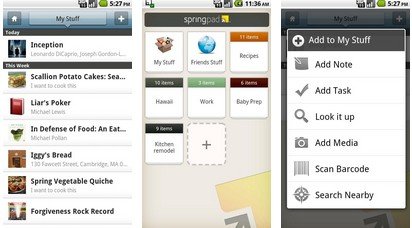 Features of this android app :
– Set reminders for anything you've saved
– Add a smart folder or shortcut to your home screen
– Easily add tags, flags and alerts
– Create tasks and lists to manage your to-dos
– Use the web clipper and Chrome extension for more ways to save on the Web
– Scan a barcode, take a photo or record a voice memo to save what you want to remember
– Discover and save recommendations from your social networks
– Locate nearby businesses and places worth remembering
– Create your very own digital cork-board to visually organize ideas and information.
– Share your stuff, set reminders and get alerts to relevant news, offers and deals
– Springpad automatically categorizes everything you save and gives you powerful organizational features.

Updates in the latest version of this android app :
– Fixed crash when sharing to Springpad from other apps
– Introducing customizable notebooks! Customizations done on Springpadit.com will show up on Android app!
– Moved 'Save an Audio Note' to a top level save item
– Made several sync reliability improvements
– On-screen keyboard will now display automatically with PIN dialogs (Android v2.3+)
– Fixes text wrap issue in photo note descriptions
– Fixes crash happening during background sync operations
Springpad Android App is the Best Android App for task management on your android mobile. This is a free android application is last updated on June 22, 2012 by the developer. The latest version of this android app is 3.1.2 and requires ANDROID version 2.1 and up to be installed on your android device. This app is currently trending in Android Market under productivity android apps and has 1,000,000 – 5,000,000 installations since its launch.
This android app will require approx 2.3 M of free space on your device for installation. This android app is rated 4.2 with 21,904 reviews in google android market at the time of writing this post. You can download this best android application from Google android market or visit the official page of the developer of Springpad Android tablet App and android mobile app.