Skyvi Android application is similar to Siri for iphone concept. Skyvi knows everything from Local Businesses to Celebrities! She can text/call friends, find places, make witty remarks and even tells jokes. Update Facebook and Twitter Too!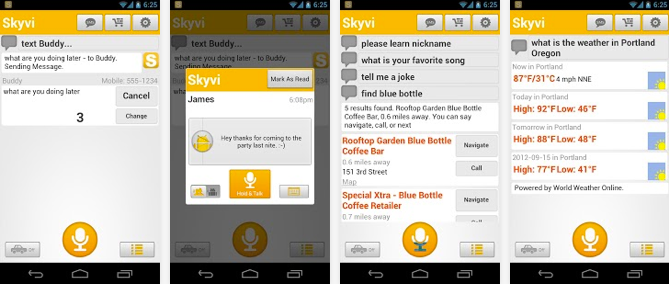 Key Features of Skyvi Android application:
-Voice Texting
-Fast find and call places
-Get directions
-Call Contacts
-Play music
-Local weather and time
-Fun chats, witty remarks, tells jokes
-Text by Voice
-Tweet or Update Facebook with Voice
-Ask questions with voice
Skyvi Android application is one of the Best Android Application for Siri like app on your android mobile. This free android application is last updated on September 16, 2013 by the developer. The latest version of this android app is 2.170 and requires ANDROID version 2.1 and up to be installed on your android device.
This best android app is currently trending in Android Market under productivity android apps and has 5,000,000 – 10,000,000 installations since its launch. This android app will require approx 2.7M of free space on your device for installation. This free android application is rated 4.5 with 242,880 reviews in google android market at the time of writing this post. You can download this free android app from Google play store. you can also check out Speaktoit – Speak Assist for Android.