Microsoft Office Mobile is the official Office companion optimized for your Android phone. You can access, view and edit your Microsoft Word, Microsoft Excel and Microsoft Office document viewer for free from virtually anywhere. Documents look like the originals, thanks to support for charts, animations, SmartArt graphics and shapes. When you make quick edits or add comments to a document, the formatting and content remain intact.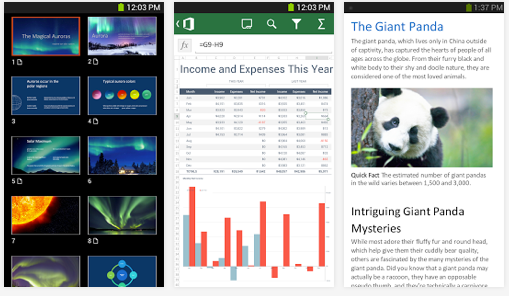 KEY FEATURES:
Access documents from virtually anywhere:
* Cloud – With your phone, you can access Office documents that are stored on SkyDrive, SkyDrive Pro, or SharePoint
* Recent Documents – Office Mobile is cloud-connected. The documents you've recently viewed on your computer are readily available on your phone in the recent documents panel.
* Email Attachments – You can view and edit Office documents attached to email messages.
Office documents look stunning:
* Great-Looking Documents – Word, Excel and PowerPoint documents look great on your phone, thanks to support for charts, animations, SmartArt Graphics, and shapes.
* Optimized for phone – Word, Excel and PowerPoint have been optimized for the small screen of your phone.
* Resume Reading – When opening a Word document from SkyDrive or SkyDrive Pro on your phone, it automatically resumes at the place where you left off reading, even if you last viewed the document on your PC or tablet.
Requirements for Office Mobile for Office 365 by Microsoft :
A qualifying Office 365 subscription is required to use this app.
Requires a phone running Android OS 4.0 or later.
Office Mobile for Office 365 by Microsoft is the official Android App for your android mobile by Microsoft. This free android application is listed under productivity apps in Google Android Market. The app has 100,000 – 500,000 downloads since its launch.
The latest version of this android app (version 15.0.1924.2000 ) was released by the developer on 27 August 2013 and requires ANDROID version 4.0 and up to be installed on your android device. This android app is rated 3.4 with 1,882 reviews at the time of writing this post.
This android app will require approx 27 M of free space on your device for installation. Download this best android app for free from Google play store.