App Backup & Restore app can be used to backup and restore apps for android. App Backup only backup the apk files & cannot backup data or settings of apps for you.
Features of this android app:
– Backup apps to SD card
– Batch backup
– Backup market link for protected apps
– Restore apps from SD card
– Batch restore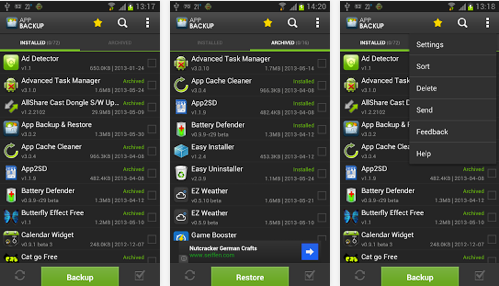 – Quick uninstalling
– Sort apps by name, install date, size
– Auto backup on install
– Show storage usage
– Multi version backup
– Support multi window
Go to "System Settings"->"Applications", enable the "Unknown sources" setting, then you can restore apps from SD card. You can also backup your apps to drop box on your android mobile. It requires the dropbox already installed in your phone, click "Archived" Tab, long click on the app that you want to send, then click "Dropbox".
Backup App is one of the Best Android Application for productivity on your android mobile. This free android application is last updated on February 22, 2014 & the latest version varies depending on your phone. This app is trending in under productivity apps and has 5,000,000 – 10,000,000 installations since its launch & is rated 4.4 with 62,322 reviews.
You can download this app for free.