Duo is a one-to-one video calling app for everyone – designed to be simple, reliable and fun, so you never miss a moment.
Once the app is downloading is through, users need to register themselves on the Duo app. All that is required for this user's phone number, and you're set.
Features of Google Duo Free Video Calling App: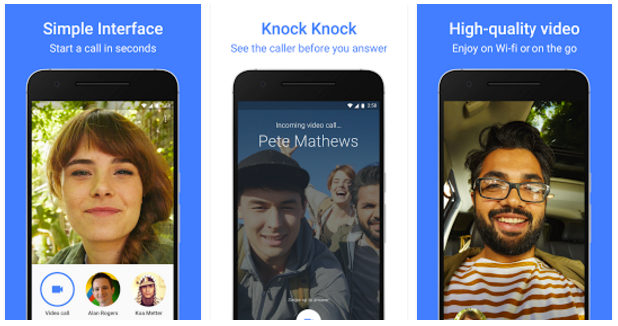 Tap on the ' Video Call' button and scroll through your contacts for making a call. This means you can videochat with whoever is on your phone's contact list
Simple interface : Pick a loved one and jump right in, with a simple interface that brings video to the forefront. Simple one-tap calling and super smooth switching from cell to Wi-Fi make it easy to check in from anywhere.
Knock Knock: See the caller before you answer with Duo's live preview feature. Preview incoming video calls from everyone in your contacts with Knock Knock and you'll never miss a moment. Google's rationale for this feature is that Knock Knock gets you smiling before the call starts.
High-quality video: Experience faster and more reliable video calls whether you're on Wi-Fi or on-the-go.
Cross-platform: Video call all your friends across Android and iOS with just one simple app.
Duo is competing not only against Skype, Facebook Messenger and others, but even Google itself with Hangouts and other such free video chatting and calling apps.
Duo google for video calls is the simplest android Android App and is launched on August 15, 2016. The app is currently trending in under productivity android apps. The android app is rated 4.4 by 14,909 reviews within 3 days of launch. Download the app here