One of the biggest issues faced by Android users is that they face low storage issues. 1/3 Android users run out of storage space every day. Due to this problems user cannot use their phones to the fullest. Most of our Storage is filled with important and precious Images, Videos and Audios, which cannot be deleted and can only be transferred to SD Card. Transferring Medias may be a hectic job for some of us.
To solve all your Transferring/storage issue there is a app called MoveIt. MoveIt solves your storage issues by letting you transfer your Images,Videos and Audios to SD card and vice versa in a Easy and Hassle free way. It has also a Inbuilt Cleaner which cleans junk files and also it has a Media Scanner which lets you find the hidden medias, which are not displayed otherwise.
It additionally has many more cool features.
Transfer Medias to SD Card- Transfer all your images, videos and audios altogether to SD Card easily and efficiently without any hassle using MoveIt.
Transfer Medias to Internal Storage- You can also Transfer your Images, videos and audios altogether to Internal Storage easily and efficiently.
Auto Transfer- Transfer medias to SD Card automatically without even opening the app using Auto Transfer. This, also saves a lot of time and effort.
Inbuilt Cleaner- MoveIt's inbuilt cleaner lets you clean your junk files such as Apk's, Temp Files and Thumbnails etc which helps you to increase your phone's Internal Storage Space.
Media Scanner- MoveIt also has a Internal and External Storage Media Scanner which helps you to find all the hidden Media which are not being displayed weather they are in Internal Storage or SD Card.
Delete- MoveIt does not only let you Transfer but also lets You delete your Images,Videos and Audios in internal storage and SD Card without any hassle .
Easy UI- MoveIt has a easy and user friendly User Interface so that you can effortlessly and easily Transfer your images, videos and audios to SD Card and vice versa.
Multi Select- Transfer Images,Videos and Audios at the same time to SD Card and vice versa using MoveIt.
Media Manager- MoveIt additionally serves as a Media Manager as it helps to Move, View and Delete your Media.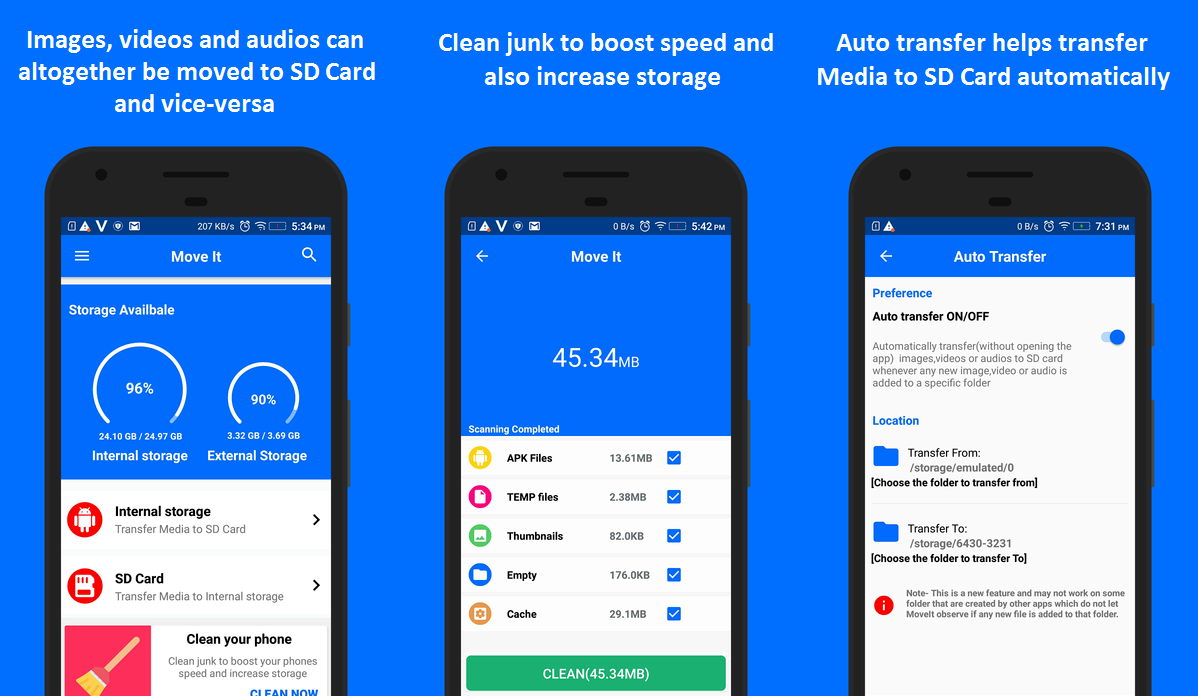 Conclusion
What is different about MoveIt App is the ease with which it transfers your medias to SD Card. All the medias are sorted out date wise. Also all medias are at one place so you don't need to go each and every folder search your medias and then transfer or delete them.
If your phone is low on storage MoveIt is a must have an app as it lets you transfer your Medias to SD Card in a easy and efficient way.
Size of the App is less 4 MB, so did does not even occupy much space.
MoveIt is Free of cost and can be downloaded from Play Store- Download MoveIt.