Call Tracker Android App is best remote management and security tools application for your phone and your family. You can do more than only backup and restore call logs with this android app. Now you can track and monitor everything from your Android device.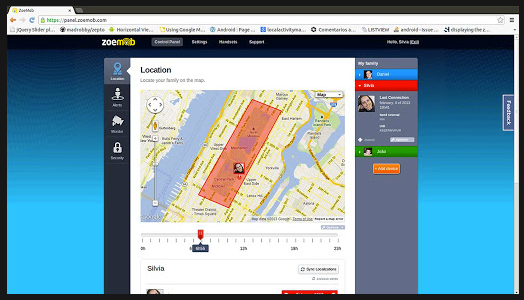 features of Phone Call Tracker
– Call logs tracker and monitoring (call tracker, call history, call timer, all calls data, previous call logs, history of calls logs)
– SMS monitoring and backup
– Contact list monitoring
– Find phone using GPS Location
– Find phone by cell phone tower signal
– Backup phone data
– Restore backup to a new phone
– Remotely wipe SD Card
– Remotely wipe phone data (contacts, sms, photos, videos etc)
– Web control panel (send commands to phone)
– Geofence alerts
-Receive alerts when your family members arrive at school or at home.
– Or even if they are nearby or far away from a place you have determined in the map (it´s like a automatic check-in!)
– Receive automatic alerts if your kids are receiving or sending any text messages with inappropriate or undesirable content like bullying and sexting.
– Receive alerts if your kids are in a car over the speed limit that you consider safe.
Important : For increased efficiency and comfort, Call Tracker Android App use both the signal emitted by the GPS as well as the carrier network's data for location. Most common uses of Call Tracker app are monitoring calls and sms messages, find my phone, find my friend, find my droid phone, locating of children, location kids, tracking phone, tracking husband, tracking wife, find a friend, find a phone, find a person and location tracker,.
Call Tracker Android Application is one of the Best Android App for security and cell tracker on your android mobile. This free android application is listed under productivity apps. The app has 1,000,000 – 5,000,000 downloads and the latest version of this android app (version 3.61) was released on October 29, 2014 (requires ANDROID version 3.0 and up).
This android app will require approx 9.3 M of free space on your device for installation. Download this best android app for free from Google android market.