Norton Mobile Utilities Lite provides essential tools to boost the performance of your smartphone and tablet in a single app, including battery saver and task killer functionality.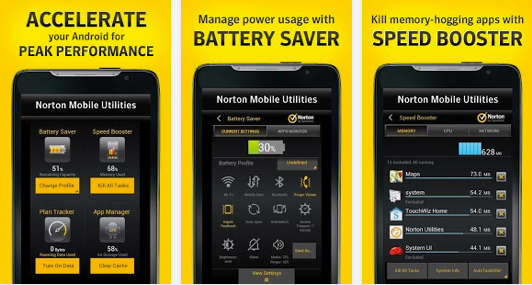 Features of Norton Utilities task killer :
• Terminate memory-hogging apps with advanced task killer
• Keep track of cell phone voice, SMS texting, and data usage
• Auto-alert reminders before you exceed your monthly wireless plan
• View real-time monitors for CPU speed, memory usage, and network status
• Simplified app management for power users
• Uninstall unwanted apps and clear temporary files to free up storage
• Find and manage installer files on your SD card
• Move apps to your SD card
A task killer improves Android's performance by forcing unnecessary/idle apps to quit. The fewer apps that run in the background, the better your device will perform.
Norton Mobile Utilities Android App Lite version is one of the Best Android App for performance management on your android mobile. This free android application is listed under productivity apps in Google Android Market. The app has 1,000,000 – 5,000,000 downloads since its launch.
The latest version of this android app (version 2.7.1.362) was released by the developer on May 21, 2013 and requires ANDROID version 2.2 and up to be installed on your android device. You can also upgrade this app for $9.99 to get the full version of Norton Mobile Utilities.
This android app is rated 4.3 with 10,117 reviews at the time of writing this post. This android app will require 4.0M of free space on your device for installation depending on device & android version. Download this best android app for free from Google play store.
Other tips to save and extend your battery life :
– Schedule set times to put your phone to sleep.
– Turn off mobile data when not in use.
– Upload and sync files through WiFi instead of mobile data.
– Kill idle/unused apps or uninstall apps that are unnecessary.
– Adjust screen brightness to auto mode.
– Get rid of unused widgets.
– Deactivate GPS when not in use.