Bank of Baroda;s official android mobile banking app Baroda M-Connect let's you do banking transactions using your mobile phone anytime & anywhere.
Features Bank of Baroda Mobile Banking App:
* Easy to register, download and start the using Baroda M Connect
* Secure way of transacting banking business
* No restriction on number of transactions. Cumulative maximum in a day is Rs.50000/-
* View the account balance & mini statement
* No charges – Absolutely FREE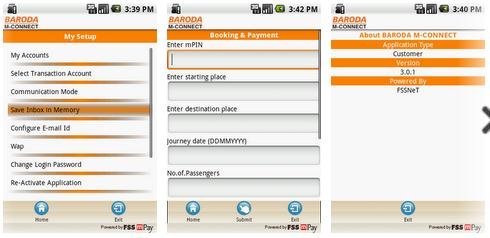 * Funds transfer to accounts with Bank of Baroda & to other bank accounts through (NEFT)
* Services like Cheque book request, stop payment of cheque, Request for loans, etc.
* Bills payment – Most of the utility bills can be paid through your mobile using M-Connect
* Mobile recharge can be done
* Booking of movie tickets
* Booking of Air tickets for travel in India
M-Connect Android App is one of the Best Android App for banking on your android mobile. This free android application is listed under finance apps in Google Android Market. The app has 50,000 – 100,000 downloads since its launch. The latest version of this android app (version 3.7.3) was released by the developer on April 22, 2013 and requires ANDROID version 2.2 and up to be installed on your android device.
This android app is rated 4.0 at the time of writing this post. This android app will require approx 165K of free space on your device for installation. Download this best android app for free from Google android market.