Super AppLock is a smart app protector and privacy guard to lock apps using password or pattern! The app builds a privacy fence for your android phone!

Super AppLock is No.1 free AppLock for android. It has two encrypt control: PIN & Pattern passwords. You can now a password lock on everything you want to secure using a simple but solid sound encrypting method.
Super AppLock works similar to other app lock apps, but it Free and no-ads inside. It also comes with enhanced features than just a simple applock. It is very stable on android systems, protect with high security.
Features of the App :
Lock installed Apps :
You can now lock any installed apps on your phone, like gallery, media, contact, call, SMS, Settings, camera, note, files,etc. and chat apps like Twitter, Instagram, Facebook, Snapchat, Gmail and Games, and financing apps like bank, Paypal, etc.
Why you should lock the apps installed on your mobile?
Basically you use apps from 10-100 times daily or may be a little more and some apps are running in background without you knowing it. To control access to apps is a must to protect your privacy those apps might contain.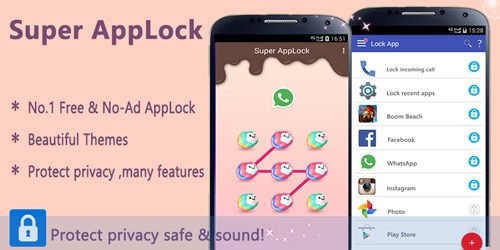 Vault for Photo & video & file
You can now keep your private photos and videos in the safe vault within your mobile, a smart way to protect your privacy. The photos and videos in the vault are totally protected and are not shown in mobile gallery. So, No one else but you can access the safe vault with a password. Sounds cool?
Along with photos and videos you can also lock files. the feature is very useful for securing your confidential and personal files, documentations , novels, notes that you wish to keep away from everyone. Only challenge as of now is that you can't read files in the vault.
Hide apps , Fake cover, Replace app icon
This feature allows you to hide apps that you don't want them to be seen by others on the screen. A safe way to keep your privacy from prying eyes for apps you feel super private.
Fake cover is a fun function , using it you can enable a fake fingerprint scan process, or fake force closed info, which will confuse snoopers. An interesting and smart idea to save you from awkward situation.
You can also replace Super AppLock icon with Calculator /Weather/ clock icon, so the other people won't know you are using an encrypt tool and won't doubt whether you have any secrets inside your phone.

Free and beautiful themes
Super AppLock offers 30 stunning and glamorous themes. They feature different subjects from Vampire, Football, Candy, Teddy bear, Halloween, Green leaf, Aurora, Snowsky, Zombie, Dragon, Constellation series, beautiful lady to pin heart and wedding themes. You can find your favorite themes there.
Advanced functions of the app:
1) AppLock: lock apps you have installed 
2) Lock incoming calls: stop others picking up your call
3) Lock recent apps: more security 
4) Lock Photo: important photos stored in safe vault
5) Lock Video: View secret videos in safe vault
6) Beautiful themes to change lock cover
7) App fake cover: use fingerprint & FC (force close) to confuse snoopers
* Replace applock icon to enjoy more privacy guard!
8) Hide apps: hide apps you don't want to see on screen (only support Rooted devices)
9) Support password / pattern lock shift
10) Uninstall protection: ensure more security
11) Plug-in : Kids Lock (Kids Time) & Guest Mode
Super AppLock (privacy guard) Android App is one of the Best Android App for your android mobile. This free android application is listed under tools apps in Google play store. The app has 100,000 – 500,000 downloads since its launch. The latest version of this android app (v1.3.04 ) was released by the developer on 09 October 2015 and requires ANDROID version 3.0 and up to be installed on your android device.
This android app is rated 4.2 with 4,559 reviews at the time of writing this post. This android app will require approx 2.1 M of free space on your device for installation. Download this best android app for free from Google play store.