Newsr Android Tablet App is one of the best android app for your tablet to read news. This android app is a tablet-centric way to casually read your Google Reader RSS feeds.
Features of Newsr android app for tablet:
— Enjoy unique user experience that was designed to take advantage of the tablet.
— Stay in sync with Google Reader, so you'll never read the same article twice.
— Organize your articles by feed or label, and set a default for future use.
— A live view of unread articles by feed or label, each view sorted alphabetically.
— Two-touch sharing of articles via Facebook, Twitter, Gmail, and more.
— Newsr marks articles as read with Google's server as you read them in the app, seamlessly.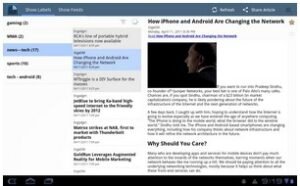 What's in this version of Newsr Android Tablet App:
– Fixed the built-in web view from a scrolling issue.
– Added a header to the web view, like TweetComb.
– Made the starred download count a configurable property.
– BUG: Account list shows more than just Google accounts.
Newsr Android Tablet App is the Best Android App for news on your android tablet. This is a free android application is last updated on June 25, 2011 by the developer. The latest version of this android app is 1.20 and requires ANDROID version 3.0 and up to be installed on your android tablet. This app is currently trending in Android Market under news and magazine android apps and has 10,000 – 50,000 installations since its launch. This android app will require approx 411 k of free space on your device for installation. This android app is rated 4.4 in google android market at the time of writing this post. You can download this free android tablet app from Google android market.