Download Perfect Piano Android App to learn accurately notes of the piano with realistic piano sound. Get this best android app for free.
Features of Perfect Piano Android App :
1.. Support Full Keyboads of Piano.
2. Single Row Mode.
3. Dual Row Mode.
4. Multi-Touch(Android 2.1 or higher).
5. Touch pressure detecting.
6. Rec and Playback
7. Key width adjustment
8. Learn to play mode!(Preload 40 Sample songs)

Updates in the latest version of Perfect Piano Android App
1. Share recording file via dropbox & gmail
2. Import recordings from all external file system.
3. Add 10 new sample songs. Totally 40 now.
4. Add in app billing feature. User can disable the ADs permanently by PayPal.
5. Fix the keeping prompt user issue when fails to load sounds.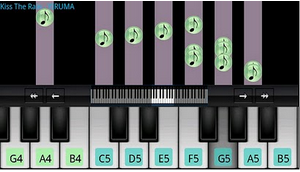 Note : This android application runs best on android devices with CPU bigger than 800MHz.
Perfect Piano Android App is one of the Best Android App for music on your android mobile. This free android application is listed under casual apps in Google Android Market. The app has 10,000,000 – 50,000,000 downloads since its launch. The latest version of this android app (version 5.2) was released by the developer on June 10, 2012 and requires ANDROID version 2.1 and up to be installed on your android device.
This android app is rated 4.2 with 19,487 reviews at the time of writing this post. This android app will require approx 2.9 M of free space on your device for installation. Download this best android app for free from Google android market