Download Musical Piano Android App and be Musical on the go with a piano, keyboard, metronome, and pitch pipe! A musical toolkit including instruments (grand piano, piano keyboard, drums), tools (metronome, pitch pipe), a game (piano practice), and more…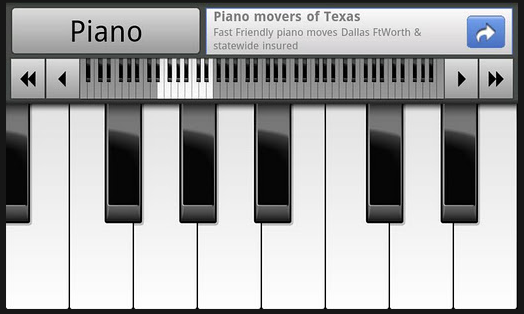 Musical Piano Android App is one of the Best Android App for your playing piano android mobile. This free android application is listed under music apps in Google Android Market. The app has 1,000,000 – 5,000,000 downloads since its launch.
Detailed Features of Musical Piano Android App
Piano & Keyboard
o Scrolling grand piano
o 2-octave stacked piano
o 8 included MIDI instruments
Piano Practice Mode
o Play-along piano learning game
o Auto-accompaniment
o Piano scrolls to correct octaves
o Purchase more songs in-app
Drums
o Basic 8-piece drum kit
The latest version of this android app (version 4.0.5) was released by the developer on March 6, 2012 and requires ANDROID version 2.2 and up to be installed on your android device.
This android app has 5,000,000 – 10,000,000 download and is rated 4.2 with 80,555 reviews at the time of writing this post. The app will require approx 1.1 M of free space on your device for installation. Download this best android app for free from Google play store.