Download Gigbeat Android App now and you will never miss the concerts by your favorite artists! GigBeat scans your device's music library and shows you when your favorite artists are on tour and where they will be.
Feature List of Gigbeat Android App:
– Scans your music library for your artists.
– Location based search so you can find out what's happening around you.
– Notifications for upcoming events, or newly added tour dates.
– Link to ticket purchasing via Songkick.com
– Sync tracked artists, events, and locations from your Songkick account.
– Sync artists from your Last.fm account.
– Events from artists recommended by Last.fm Android App
As per the developer's site Gigbeat have been preparing for the new version of Android. The next version of Gigbeat will fully support the new Galaxy Nexus resolution as well as Android 4.0. Users should expect to see this release out within the next few weeks.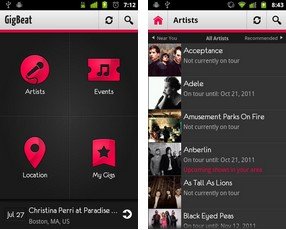 Gigbeat Android App is the Best Android App for music on your android mobile. This free android application is listed under Music & Audio apps in Google Android Market. The app has 500,000 – 1,000,000 installs since its launch. The latest version of this android app (version 1.2) was released by the developer on June 29, 2012 and requires ANDROID version 2.1 and up to be installed on your android device.
This android app is rated 4.4 with 1,791 reviews at the time of writing this post. This android app will require approx 771k of free space on your device for installation. Download this top android app for free from Google android market.