Pocket Frogs Android Apps is android version of one of the most popular iPhone app. Download this best android app for FREE.
Discover, collect, and breed over 15,000 unique frogs, anytime, anywhere with fellow Android players. how to play this android game :
a. Race your frogs for special rewards
b. Breed a diverse and unique collection of frogs
c. Customize and decorate each of your frog habitats
d. View your friends' habitats and frogs
e. Explore the pond to find rewards and discover rare frogs


List of supported Android mobiles :
While Mobage and Mobage games are currently available for more than 85 Android devices, developer guarantee an optimal experience on a select number of following android mobiles.
HTC : Evo 4G, Droid Incredible, Desire (bravo), Desire HD, myTouch 4G
Motorola : Droid X, Droid II
Samsung : Galaxy S, Galaxy S2 (GT-I9100), Nexus S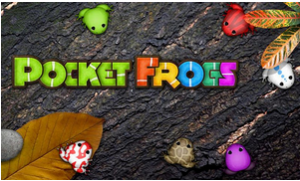 Pocket Frogs Android Apps is one of the Best Android Application for your android mobile. This free android application is last updated on June 17, 2013 by the developer. The latest version of this android app is 1.11.1.0.4 and requires ANDROID version 2.0 and up to be installed on your android device.
This best android app is currently trending in Android Market under casual android apps and has 1,000,000 – 5,000,000 installations since its launch. This android app will require approx 38 M of free space on your device for installation.
This free android application is rated 4.6 with 69,544 reviews in google android market at the time of writing this post. You can download this best android app from Google android market