Download Fishing Game Android Application for free on your android mobile and save the little fish to survive the danger of ocean world.

A small fish plays alone in an ocean,without knowing danger is coming close to him, help him survive in these dangerous waters.
How to play Fishing Game Android Application :
– Tap and move fingers on screen to move the small fish.
– Eat the fish smaller than yourself.
– Avoid the fish bigger than yourself.
– Eat enough fish to grow up.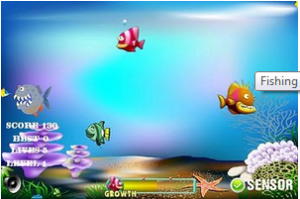 Fishing Game Android Application is one of the Best Android Application for sports game app on your android mobile. This free android application is last updated on December 27, 2011 by the developer. The latest version of this android app is 1.4.0 and requires ANDROID version 1.5 and up to be installed on your android device. This best
android app is currently trending in Android Market under sports game android apps and has 1,000,000 – 5,000,000 installations since its launch. This android app will require approx 1.5 M of free space on your device for installation. This free android application is rated 4.1 with 5,082 reviews in google android market at the time of writing this post. You can download this free android app from Google android market.