Iron Man 3 Official App is for all fans of superhero games and for all of those who want to fight as Iron Man during amazing and intense free runs. This is the official game of the most awaited superhero movie for FREE!
Billionaire Tony Stark as Iron Man in this free, fast-paced, endless runner, the official game of the upcoming movie!
Features of this android app :
– Fight against rising A.I.M. forces around the world during amazing runs
– Discover 3 different locations offering endless, self-generating levels: Malibu Shores, New York City and China
– Confront 4 epic villains from the Iron Man comics: Crimson Dynamo, Ezekiel Stane, Living Laser

– Complete various missions in fast-paced flying battles and epic one-on-one confrontations
– Unleash Iron Man's superpowers with amazingly responsive swipe controls
– Enjoy an outstanding 3D world with cutting-edge graphics and animations
– Research and develop up to 18 suits from the different movies
– Upgrade your armours and powers in the research Lab to wipe out your enemies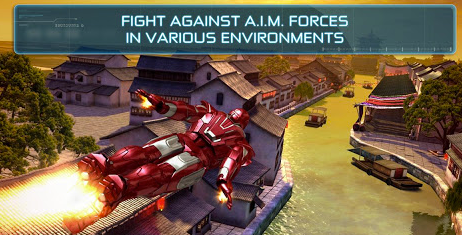 Iron Man 3 Official Android App is one of the Best Android Application for Arcade & Action on your android mobile. This free android application is last updated on April 27, 2013 by the developer. The latest version of this android app is 1.1.0 and requires ANDROID version 2.3 and up to be installed on your android device. This best android app is currently trending in Android Market under arcade & action android apps and has 1100,000 – 500,000 installations since its launch.
This android app will require approx 795M of free space on your device for installation. This free android application is rated 4.3 with 14,612 reviews in google android market at the time of writing this post. You can download this free android app from Google android market.