Talking Santa Android App is one of the best android app for Christmas. Download this android app to tickle Santa and make him laugh.
This android app is in the series of ever entertaining "Talking character". Other android apps of talking characters are :
– Talking Tom Cat
– Talking Ben the Dog
– Talking chill Chicken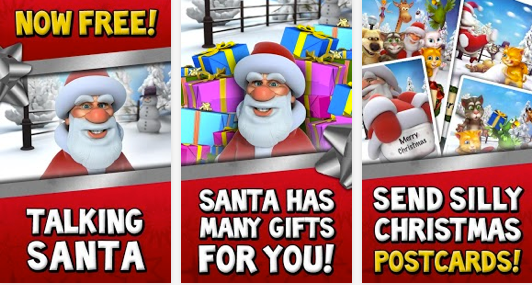 How to use Talking Santa Android App
✔ Talk to Santa and he will repeat your words.
✔ Poke, swipe or tickle Santa to see his various reactions.
✔ Run Santa over with a huge snowball.
✔ Give Santa milk & cookies.
✔ Touch the bag to see your gifts.
Don't slap santa or you would not get any gifts this christmas.
Talking Santa Android App is the fun Android Application for your android mobile. This free android application is last updated on 13 December 2014 by the developer.
Updates in the app :
✔ You can now remove ads with an in-app purchase
✔ Improved Child Mode
✔ New super silly Christmas postcards
The latest version of this android app is 2.1.2 and requires ANDROID version 1.5 and up to be installed on your android device. This app is currently trending under arcade & entertainment android apps and has 10,000,000 – 50,000,000 installations since its launch.
This android app will require approx 23M of free space on your device for installation. This android app is rated 4.1 with 286,480 reviews at the time of writing this post. You can download this free android app for christmas from Google play store.