Face Swap App for Fun is a fun app for pictures and photos on your android mobile. Just take picture or choose any from your gallery and play with them.
Features :
* Automatic face detection
* Face Adjustment ( Use the Selection oval to adjust the faces).
* Face Scaling ( Just touch any face with one finger and drag another finger anywhere on screen to scale).
* Face Rotation ( Select a face and use rotation slider to maintain the rotation of selected face).
* Flip faces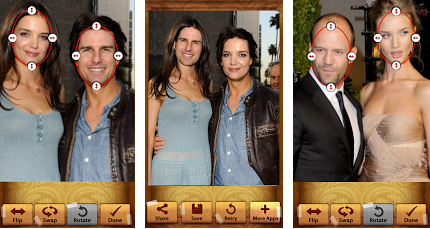 * Swap faces
* Save to SD card
* Share on facebook for android tablet , twitter, google+ etc.
Face Swap App for Fun is one of the Best Android App for photography on your android mobile. This free android application is listed under photography apps in Google Android Market.
The app has 100,000 – 500,000 downloads since its launch. The latest version of this android app (version 1.2) was released by the developer on July 2, 2013 and requires ANDROID version 2.2 and up to be installed on your android device. This android app is rated 4.2 with 1,113 reviews at the time of writing this post.
This android app will require approx 4.5 M of free space on your device for installation. Download this best android app for free from Google android market.