Bigg Boss is a reality show where A number of contestants (known as "housemates") live in a purpose-built house and are isolated from the rest of the world. Each week, housemates nominate two of their peers for eviction, and the housemates who receives the most nominations would face a public vote.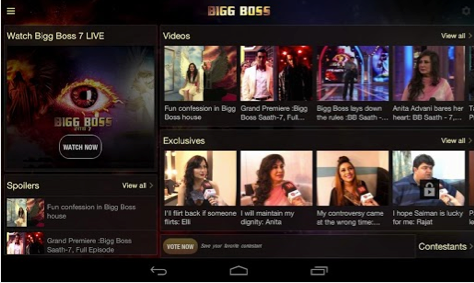 Of these, one would eventually leave, having been "evicted" from the House. However, there were exceptions to this process as dictated by Bigg Boss. The housemates in the Indian version are primarily celebrities.Housemates are overseen by a mysterious person known as 'Bigg Boss', whose only presence in the house is through his voice.
Bigg Boss Official App is one of the Best Android Application for LIVE TV on your android mobile. This free android application is last updated on November 7, 2013 by the developer. The latest version of this android app is 1.4 and requires ANDROID version 2.1 and up to be installed on your android device.
This best android app is currently trending in Android Market under casual android apps and has 100,000 – 500,000 installations since its launch. This android app will require approx 12 M of free space on your device for installation. This free android application is rated 3.7 with 2,015 reviews in google android market at the time of writing this post.
You can download this free android app from Google play store.