IMDb Movies & TV is one of the 5 best android app for Movies reviews and celebrity info. Download this top android app on your mobile and tablet for free. Search the world's largest collection of over Over 1.5 million movie and TV titles and Over 3.2 million celebrities, actors, actresses, directors and other crew members.

Features of IMDb Movies Android App:
– Best Movies – award winners
– Top rated movies of all time (IMDb Top 250)
– Most popular movies of the day on IMDb (MOVIEmeter)
– Most popular celebrities of the day on IMDb (STARmeter)
– Lowest rated movies of all time (IMDb Bottom 100)
– Most popular TV shows
– US Box office results
– Celebrity birthdays
– Sign in to IMDb using your Google account – if you already have an IMDb account under your Google email address, it will automatically link with it.
Sign in with your IMDb account or your Facebook account and Rate movies and TV shows.
– You can choose "notify me" on titles and names you're interested in to be notified of trailers, photos, showtimes, and news.
– Recommendations are now faster.
– Flags appear on most title posters to tap and add that title to your watchlist.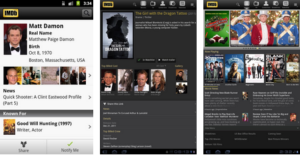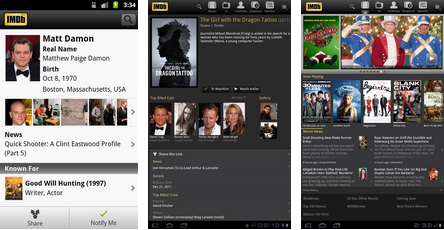 The latest version of this android app offers :
· User reviews for movies and TV shows
· Critics reviews for movies and TV shows
· Quotes, trivia and goofs about movies and celebrities
· Your browse and search history on IMDb
Updates in this version IMDb Movies Android App:
· New "Latest Trailers" carousel on the home screen
· Added Android 4.0 (Ice Cream Sandwich android app) compatibility
· Improved design and experience for a variety of 7" tablets
· The size of the app is reduced by removing the "Scan DVD" feature
· Take Pictures & Video permission is no longer required.
· Improved showtimes
· You can see movies playing in theaters near you at the top of the home page, and find showtimes at the top of the title page for every movie playing in your area right now
· You can now access your Watchlist directly from the navigation bar at the top of every page
· Road to the Oscars® section now includes live results during both the Golden Globes and Academy Awards® broadcasts


IMDb Movies Android App is the Best Android Application for movie reviews and ratings on your android mobile. This free android application is last updated on January 27, 2014 by the developer. The latest version and size of this android app varies with the android version installed on your device and requires ANDROID version 1.6 and up to be installed on your android device.
This best android app is currently trending in Android Market under entertainment android apps and has 10,000,000 – 50,000,000 installations since its launch. This free android application is rated 4.4 with 134,709 reviews in google android market at the time of writing this post. You can download this top android app from Google.