HIKE is a latest messenger & free SMS app for android mobiles that lets you send free messages to your friends and family. What make hike different is that you can message friends that are on hike and also those who aren't on hike too. Unlike whatsapp android app whre everyone needs to download app to use.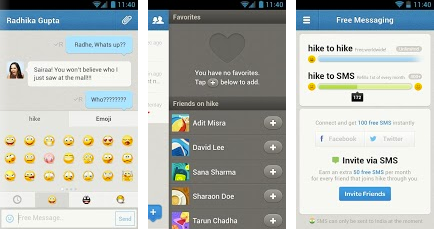 Features of HIKE android app:
– Chat with any of your friends for free. Hike to hike messaging is free, always, worldwide.
– FREE hike to non-hike SMS. So if your friends aren't on hike you can still message them for free. Free SMS can only be sent to India.
– Invite anyone & everyone via SMS for FREE.
– Create a group chat with friends and family on hike
– Send photos videos and more to friends on hike and also those who aren't on hike via Free SMS!
– Just like SMS, hike works with your phone number and integrates with your existing phone address book.
– With hike you're ALWAYS CONNECTED.
– Your Address Book is used to automatically connect you with your friends and family.
– In case your phones off, hike saves your messages offline until you turn your phone on again
What's in this version of free chat app:
★ 128-bit SSL Encryption: Messages on hike are now encrypted over Wi-Fi
★ Profile Pictures: Tap on a friends profile picture to enlarge it
★ Group Chat Kick: Group owner can remove participants from group chat
★ Introducing awesome new chat themes with a unique twist! Make your conversations even more colourful.
★ A much better sticker sharing experience
★ Faster, more reliable file transfers
★ Loads of Bug Fixes & under the hood performance improvements.
★ 2 New sticker packs – "I Love You" and "Hot Heads"
★ Added support for Auto Downloading Media
Hike free SMS & messages android App is one of the Best Android App for chat your android mobile. This free android application is listed under communication apps in Google Android Market. The app has 5,000,000 – 10,000,000 downloads since its launch. The latest version of this android app (version 2.8.0) was released by the developer on February 13, 2014.
This app requires ANDROID version 2.2 and up to be installed on your android device. This android app is rated 4.3 with 222,442 reviews at the time of writing this post. This android app will require approx 12 M of free space on your device for installation. Download this best android app for free from Google android market or use the QR code on the left.