Facebook Messenger Android App is the official chat client of facebook. Facebook Messenger is best android application to send mobile messages to friends.
Facebook Messenger Android App lets you
• Get to your messages without opening Facebook.
• Chat with groups and make plans on the go.
• Bring messages to life with stickers.
• Send photos privately.
• Keep the conversation going: with chat heads, you can chat while using other apps.
• Text your phone contacts, even if you're not Facebook friends.
• Share your location so people know when you're nearby.
• Record voice messages.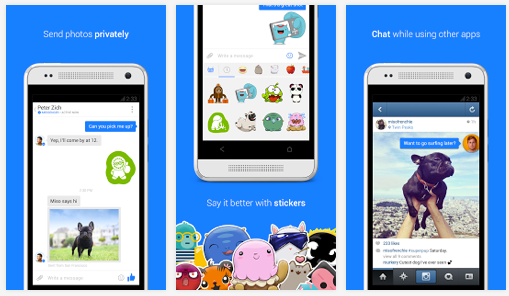 • Send a quick voice message when you have more to say
• Send messages instantly to other friends who have Messenger
• See your SMS and Facebook messages together in the app
• Chat with friends who are on Facebook
• Get free push notifications for incoming messages
• Add location and photos to messages
• Reach friends via text message if they don't have Messenger yet
• Access sent and received messages on both Messenger and Facebook
• Create group conversations for making plans on the go
• Add more friends to group conversations at any time
• Control alert and location settings for each conversation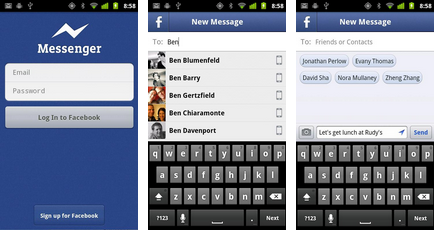 Features of Facebook Messenger Android App
a. Reach friends right on their phones
Now you can send messages directly to your friends on their mobile phones, so you stay in touch no matter where you go. Message friends or anyone in your mobile contacts.
b. Get and send messages fast
With the new standalone Messenger app, now messaging with friends is faster than ever. Messages are delivered instantly, and they're always just a click away.
c. Make plans with groups on the go
Group conversations make it easy to message everyone at once and see where your friends are. Don't want to share your location? Turn it off with one click.
Shortcuts for converstion (Simply reply ):
MUTE to stop a conversation
UNMUTE to resume a conversation
STOP to never receive texts at this number again
ON to turn text messaging back on for this number
To manage your text messaging preferences for notifications and messages, go to Account > Account Settings > Mobile Settings.
Updates in the various versions of this android app :
– Better support for Ice Cream Sandwich (ICS Android 4.0 app)
– Text everyone for free, using your existing data plan
– Reach friends wherever they are now – on their phone or the web
– Know who's seen your message, and who hasn't
– See where friends are messaging you from
– Quickly switch between multiple conversations with in-app notifications
– Include friends of friends in conversations
– See who's available when you start a new conversation
– Quickly switch between multiple conversations with in-app notifications
– Include friends of friends in conversations
– See who's available when you start a new conversation
– Share bigger photos, tap for full screen and pinch to zoom
– Swipe left anywhere in the app to quickly see who's available and send a message
– Add friends you message most to the top of your Favorites
– Try texting with Messenger (currently only available on some phones)
– New design for conversations
– Some stickers are now animated in messages
– Chat heads now on more devices (like the Samsung Galaxy Y and HTC Wildfire)
– Instant Video Sending: Shoot and play 15-second video messages from the camera right in the app.
– Big Likes: Press and hold to send an even bigger thumbs up when you really, really like something.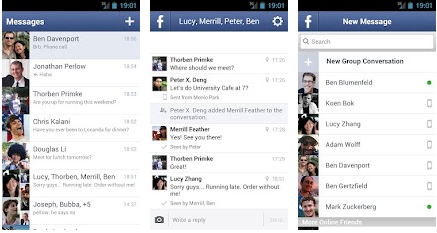 Facebook Messenger Android App is the official Android Application for facebook chat on your android mobile and one of the 5 top android facebook apps. This free android application is last updated on 13 June 2014 by the developer. This android app is currently trending under communication android apps and has 100,000,000 – 500,000,000 installations since its launch.
Facebook Messenger Android App will require approx 5.4 M of free space on your android device for installation. This android app is rated 4.2 with 5,379,265 reviews in google android market at the time of writing this post. You can download this best android app from Google android market or visit www.fb.me/msgr