The Talking Parrot Pierre Android App is a fun android app from the developers of talking tom cat and talking ben the dog. The twist in this app is being the parrot Pierre doesn't just repeat your words but he remembers what you said previously and repeats it later at random.
Talking Pierre is a very energetic and lively parrot, who lives in Talking Tom's kitchen. He's still a teenager and likes to cause as much noise and destruction as possible.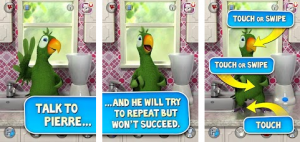 Features of The Talking Parrot Pierre :
✔ Talk to Pierre and he will repeat with a twist.
✔ Poke him in the head or belly and see what his reaction is.
✔ Poke him in the feet and enjoy his little cowboy dance.
✔ Tickle his head or body to make him happy.
✔ The Blender button switch the blender on. Once the blender is making noise, Pierre cannot hear you anymore.
✔ Tomato button throws tomatoes at The Talking Parrot Pierre.
✔ Cracked Teacup button makes him throw stuff to the floor making lovely noise.
✔ Water Faucet button starts sprinkling water around the kitchen.
✔ Record videos and upload them to YouTube & Facebook or send them by email or MMS.
Important: The first time you will be required to download additional 4-28 MB of data to get the best graphics quality of this android application for your device.
The Talking Parrot Pierre is one of the Best Android Application for fun on your android mobile. This free android application is last updated on June 5, 2013 by the developer. The latest version of this android app is 1.0 and requires ANDROID version 2.1 and up to be installed on your android device. This best android app is currently trending in Android Market under entertainment android apps and has 50,000 – 100,000 installations since its launch.
Features of the paid version of the app:
✔ If you want for a tomato to actually hit Pierre (in the free app he just keeps dodging them).
✔ If you want to see Pierre throw more stuff to the floor.
✔ If you want to see Pierre sprinkling water around the kitchen.
This android app will require approx 8.6M of free space on your device for installation. You can download this free android app from Google android market.