Download Shake to Charge Battery Android App and use motion power (kinetic energy) to charge your battery. This android app is one of the best because unlike solar charger android app or eco charger, there is no chance to damage your phone and battery.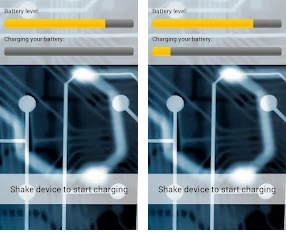 Now there will be no need to carry a battery chargers with you all the time. You can go ahead and uninstall all the battery widgets and other best battery saver android apps from your android mobile and android tablet.
How to use Shake to Charge Battery Android App :
This best android app requires you to shake your android mobile strongly to see the battery meter level going up. this is because the electric energy produced by converting the Kinetic energy is low. See conversion ratio on wikipedia
Shake to Charge Battery Android App is one of the Best Android App for playing prank on your friends. This free android application is listed under tools apps in Google Android Market. The app has 100,000 – 500,000 downloads since its launch. The latest version of this android app (version 1.2) was released by the developer on March 21, 2012 and requires ANDROID version 2.2 and up to be installed on your android device. This android app is rated 4.1 with 6,616 reviews at the time of writing this post. This android app will require approx 343k of free space on your device for installation. Download this best android app for free from Google android market or use the QR code on the left.

Important Note: Well of course this application can't charge your phone. It's for fun purposes only. Be sure of not end up losing grip and throwing your phone.