Download this app and build the most beautiful Dragon Park where you hatch, raise and train magnificent dragons.
Features of Dragon Park Android Application includes:
– TONS of rare and magnificent dragons
– TRAIN & GROW your tiny dragons
– Watch your tiny dragons EVOLVE
– BATTLE evil trolls to protect your treasure
– Use STRATEGY and combinations of elements to defeat the evil trolls
– MIX your dragons to discover new rare types
– DECORATE your kingdom to make your citizens happy

Dragon Park Android Application is free city building android application and is last updated on September 21, 2012 by the developer. The latest version of this android app is 1.18 and requires ANDROID version 2.1 and up to be installed on your android device. This best android app is currently trending in Android Market under casual android apps and has 1,000,000 – 5,000,000 installations since its launch.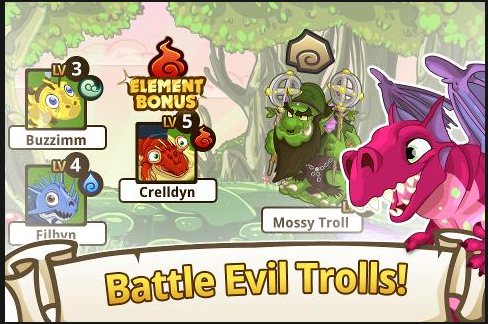 What's in this version of Dragon City Park Android Application :
– Special Dragon collectibles week is here! Get a limited edition Heroic Android Dragon while it lasts!
– Conquer the Battle Coliseum and earn Phoenix the Eternal!
– It's time for a battle tournament! Hatch special dragons and take place in this exciting championship and win a magical one of a kind dragon!
– The tournament is only open for a limited time, so act now if you want to become the champion!
This android app will require approx 21 M of free space on your device for installation. This free android application is rated 4.4 with 42,773 reviews in google android market at the time of writing this post. You can download this free android app from Google android market.