Word Search Android application is an interesting word game app. It gives you a grid of alphabets with hidden words!
Features of Make Word Android App:
– Infinite play with dynamic grids
– The grid adjusts automatically to your device
– The grids are filled with words that cross and intersect
– Improved and intelligent touch sensitivity
– Best times list
– Special tablet support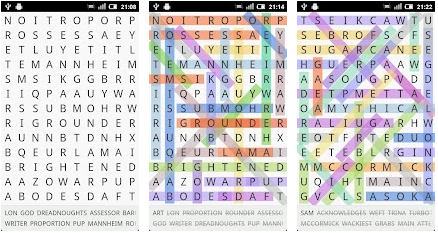 Updates in the app in various versions:
– The new permission is only needed for anonymous unique identifier usage
– Option to reset the high scores
– High scores are now dependant of the letters size option
– Option to increase the letters size, suitable for high density devices or people who prefer less words
– Highlight words in reverse order
– There are 7 items to choose from:
– Animals
– Countries of the World
– Cities of the World
– American presidents
– Historical figures
– Kids
Word Search Android Application is one of the Best Android App for word. This app is listed under entertainment apps & has 10,000,000 – 50,000,000 downloads since its launch.
The latest version of this android app (version 2.1e) was released by the developer on October 3, 2014 and requires ANDROID version 2.3 and up . This android app is rated 4.0 with 255,222 reviews at the time of writing this post. This android app will require approx 1.8 M of free space on your device for installation. Download this best android app for free.