TweetDeck is one of the best android application now acquired by Twitter Inc for staying in touch with what's happening on Twitter, Facebook, Foursquare and Buzz. TweetDeck makes it easy to stay up to date and organized no matter where you are.

TweetDeck Android Application allows you manage multiple twitter accounts without switching between them. You can view all of your accounts at once and cross-post Tweets to different accounts at the touch of a button. TweetDeck android app also allows you to post to your other social network accounts like Facebook & Foursquare accounts as well.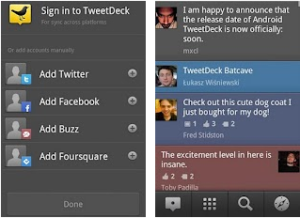 Features of TweetDeck Android Application :
– TweetDeck allows you to create columns of specific content that interests.
– You can create a column that shows all your mentions, the results of a search query etc
– TweetDeck's scheduling feature to post an update for some time in the future.
– You can also attach a photo to your Tweet by clicking the camera icon
TweetDeck Android Application is free android application listed under social apps in Google Android Market. The app has 1,000,000 – 5,000,000 downloads since its launch. The latest version of this android app (version 1.0.7.4) was released by the developer on September 15, 2011 and requires ANDROID version 1.6 and up to be installed on your android device. This android app is rated 4.2 with 54,603 reviews at the time of writing this post. This android app will require approx 821K of free space on your device for installation. Download this best android app for free from Google android market.