The Scalado Album is designed for making your everyday photo experience great.
Features of Photo Album App – Scalado:
– Superior gallery performance
– Clean and smooth user experience
– Intuitive browsing and navigation
– Instant pan and zoom into every detail
– Animated video thumbnails
– Works on Android tablets

Scalado photo album provides following Views:
The gallery also provides a number of different ways to find the exact image you are looking for. Of course, there's the "folders" view that arranges images based on where they're stored on your phone; but apart from that, you can use the "Nearby" view to find photos shot close to your current location, or the "Months" and "Places" views, which do exactly what you think they do. Then there is the "All" view, which chunks together every single image on your phone for times when you're not sure how exactly to categorize what you're looking for. Camera Roll shows all photos taken with the device camera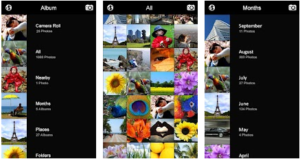 New Features in Scalado Album 1.1.4:
– 24 bit color support in full screen
– Zoom beyond 100%
– Long press a folder to hide it
– Hide/Show folders in settings
– Toggle sort order
– Now works with Force GPU setting on
– Default filters relevant photo folders
– Enable/Disable Animated Video Thumbnails
– Show/Hide videos
– Possibility to turn off Google Analytics
– Access to Settings menu in more views
– Extended EXIF info
The Scalado Album App is one of the Best Android App for photo management your android mobile. This free android application is listed under photography apps in Google Android Market. The latest version of this android app (version 1.1.4) was released by the developer on May 30, 2012 and requires ANDROID version 2.3.3 and up to be installed on your android device. This android app is rated 4.4 with 7,956 reviews at the time of writing this post. This android app will require approx 3.8M of free space on your device for installation. Download this best android app for free from Google android market.