Income Tax Calculator for India is Simplified yet advanced Indian Income tax calculator for the year financial year 2011-12 & 2012-13 assessment year 2013-2014.
This android app for tax calculation uses the income tax detail based on Year, Person Age, investment details under all section(80C, ,80D,80DD,80CCF) & other income tax exemptions like HRA, Medical, etc. to calculate the tax liability.
To ensure you get the right output you should make sure to put accurate annual figure in relevant box and keep empty if its not applicable to you.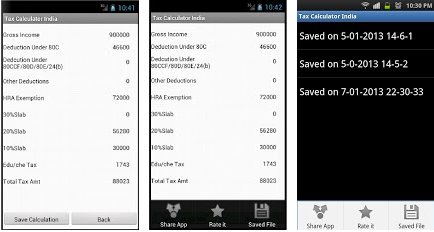 Updates in the varipus version of Income Tax Calculator for India
– Bug fix for Add overlap with taxable amount.
– Large Layout For Tablet's.
– Saved File List made more readable.
– App Icon Changed.
– Enabled Move To SD Card
– Lower version of Android is supported
– Saved file are easily accessible now.
– 2012-13 Calculation added
– Save as Image option given for calculated tax.
Income Tax Calculator for India Tablet App is one of the Best Android App for managing finance on your android mobile. This free android application is listed under finance apps in Google Android Market. The app has 50,000 – 100,000 downloads since its launch. The latest version of this android app (version 2.2) was released by the developer on February 1, 2013 and requires ANDROID version 2.2 and up to be installed on your android device.
This android app is rated 4.4 with 7,956 reviews at the time of writing this post. This android app will require approx 248K of free space on your device for installation. Download this best android app for free from Google android market.