Google I/O is a developer conference held each year with two days of deep technical content featuring technical sessions and hundreds of demonstrations from developers showcasing their technologies. The official Google I/O 2012 conference companion app for the Google IO event to be held on June27 – June 29. Must have best android apps for all attendees and enthusiasts of Google IO.
With the app you can:
* View the conference agenda and edit your personal schedule
* View detailed session, code lab, and speaker information, including speaker bios, photos, and Google+ profiles
* +1 sessions right from the app
* Participate in public #io2012 conversations on Google+
* Guide yourself using the conference map
* Get a reminder a few minutes before sessions in your schedule are due to start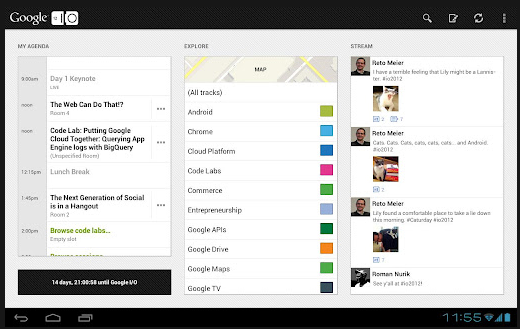 * View information about companies in the Developer Sandbox
* Keep up with announcements from the I/O team during the conference
* View your schedule on your Android 3.0+ device's home screen using an app widget
* Play back "I/O Live" session video streams on your Android 3.0+ devices
* Automatically sync sessions in your schedule to your Android 4.0 device's calendar
* Beam session details from your Android 4.0, NFC-enabled device to another using Android Beam
Supports devices running Android 2.2+, and is optimized for phones and tablets of all shapes and sizes. Google IO 2012 – Official Android App is one of the must Android Application for your android if you want to catch Google IO 2012. This free android application is last updated on June 19, 2012 by the developer. The latest version of this android app is 0.18 and has 100,000 – 500,000 installations since its launch. This android app will require approx 2.2M of free space on your device for installation. This free android application is rated 4.4 with 1,525 reviews in google android market at the time of writing this post. You can download this free android app from Google android market.