Download McAfee Free Anti Virus for Android and get the most robust, comprehensive mobile security solutions for your android mobile and tablet.

Features of McAfee Antivirus & Security :
– Android Antivirus McAfee Active Protection™ technology scans for malicious code from files, SD card, applications and Internet downloads
– Protection against web threats by blocking access to risky sites from texts, emails, QR codes and social networking site
– Device Lock—prevent misuse of your phone and personal info by remotely locking all data, including data on your SD card
– Remotely Wipe Data—Protect your privacy by remotely deleting the data on your device and SD card in case of loss or theft
– Preserve irreplaceable personal information on demand, or on schedule, then restore your information to your new device
– Find your lost or stolen android mobile. View its location on a map; send a text to prompt its return, and use a remote alarm to make it "scream"
– URL reputation database to make sure your apps are not associated with risky sites or inappropriately accessing your personal data.
– Call Blocker and SMS Filter—Easily block unwanted calls, numbers and texts—prevent spam.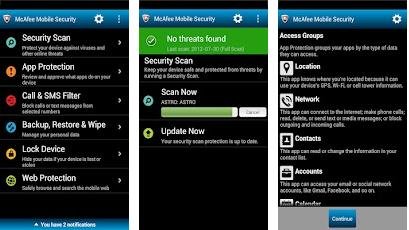 Updates in this version of best app:
– Apps Lock–Lock apps with sensitive content to protect your privacy
– Performance improvements including decreased memory usage, better battery utilization and faster scan times
– Enhanced App Protection
– File size reduction
– Performance improvements including enhanced memory usage, better battery optimization and faster scan times
– CaptureCam – Silently takes a snapshot of the person holding your lost device and email the photo to you along with the device location.
– S.O.S – Automatically saves the last location of your device before it runs out of battery.
– Wi-Fi Protection – Alerts you of non-secured Wi-Fi connections
– Free and Premium versions without requiring reinstallation
– Multi-User App Profile
Premium Version (Paid) :
– Introducing new Free and Premium versions.
– Stay protected for Free. McAfee Mobile Security's best in class anti-virus, app privacy, anti-theft – – features and much more all for free.
– Upgrade to the Premium version to avail of McAfee's award-winning phone support, media backup and a promotion-free app environment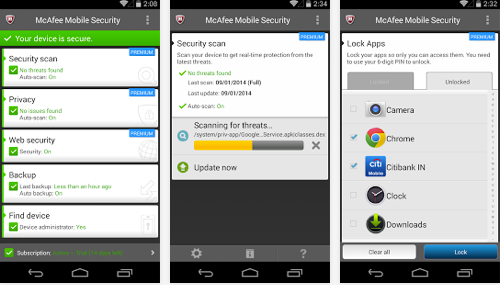 McAfee Antivirus & Security protects your device when you install new apps, shop online, browse social networks, or use your android mobile for banking and payments.
McAfee Antivirus & Security Tablet App is one of the Best AntiVirus Android App for your android mobile. This free android application is listed under productivity apps in Google Android Market. The app has 10,000,000 – 50,000,000 downloads since its launch. The latest version of this android app (version 4.3.1.616) was released by the developer on 10 February 2015 and requires ANDROID version 2.1 and up to be installed on your android device.
This android app is rated 4.3 with 255,022 reviews at the time of writing this post. This android app will require approx 8.9M of free space on your device for installation. Download this best android app for free from Google android market.