This app is a comics store available right on your mobile. This application brings Marvel Comics and DC Comics on Android mobile and tablets. Comics Android App is possibly the largest digital comic library with over 20,000 comics available.
Comics Android Application is one of the Best Android App for comics your android mobile. This free android application is listed under comics apps in Google store. The app has 1,000,000 – 5,000,000 downloads since its launch. The latest version of this android app (version 3.5.1.35106 ) was released by the developer on March 7, 2014 and requires ANDROID version 2.2 and up to be installed on your android device.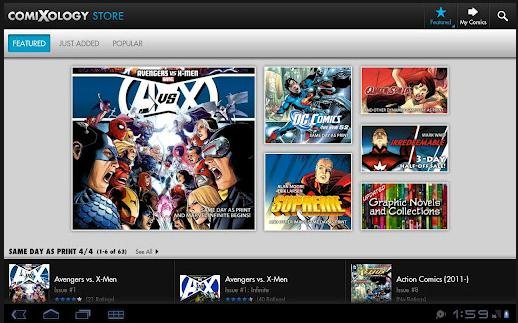 Comic app comes with over 600 for free comics from publishers including Marvel Comics, DC Comics, Image, IDW, Archie & many more!
Other features includes :
– Completely redesigned application
– Discover comics at much faster speeds
– Near instant launching
– Background downloading
– Improved "Instant Search"
– Separate "Purchases" area that displays all owned comics
– New series groupings in store and "My Comics"
– Buy or continue reading the next issue at the end of a comic
This android app is rated 4.1 with 18,946 reviews at the time of writing this post. This android app will require approx 5.1 M of free space on your device for installation. Download this best android app for free from Google android market.