Blood & Glory Android Tablet App is the Battle game app. You have to fight in the arena and entertain the crowds in a fight to the death. Here, GLORY is the only option. Blood & Glory Android Tablet App is one of the most action packed swipe and slash fighting android game in the Google android marketplace.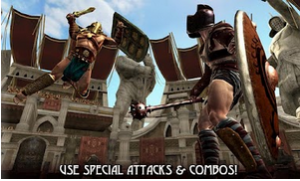 Feature of this best android app :
– See and feel the raw violence of the fighters and the intense combat arena
– Equip an arsenal of lethal weapons and armor tailored to suit all fight styles
– Weapons includes blades & shields, and destructive dual weapons
– Complete special attacks and combos for the ultimate victory
How to play – The moves are basic, when your enemy attacks :
– Block (by holding the on-screen block button)
– Duck to the left or right (by tapping the on-screen left/right buttons)
– Parry (by swiping your finger in the opposite direction of your enemy's sword)
– Attack by swiping your finger across the screen to slash your opponent
– Link multiple slashes together for combo attacks.
– Special-attack button, which charges more and more each time you successfully block, duck, or parry your opponent.

What's in this version of Blood & Glory Android Tablet App:
– Now supports Ice Cream Sandwich (Android 4.0 ICS App)
– XPERIA PLAY OPTIMIZED
Blood & Glory Android Tablet App is one of the Best Android Application for action on your android tablet. This free android application is last updated on February 3, 2012 by the developer. The latest version of this android app is 1.0.6 and requires ANDROID version 2.1 and up to be installed on your android device. This best android app is currently trending in Android Market under arcade & action android apps and has 1,000,000 – 5,000,000 installations since its launch. This android app will require approx 14M of free space on your device for installation. This free android application is rated 4.7 with 203,351 reviews in google android market at the time of writing this post. You can download this free android app from Google android market.