Download the latest version of the most amazing android app and explore more than 80 levels in iconic locations like Tatooine and the Pig Star. Grab your lightsaber and join the adventure
Theme and storyline: A long time ago in a galaxy far, far away… a group of desperate rebel birds faced off against a galactic menace: the Empire's evil Pigtroopers!
Rebel birds, striking from a hidden base, have won their first victory against the evil Imperial Pigs. During the battle, Rebel spies managed to steal secret plans to the Empire's ultimate weapon, the PIG STAR, and are racing to deliver the plans to the Rebel Birds. Now they need your help!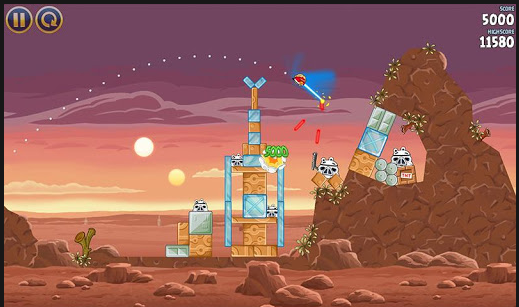 How to play :
– Use lightsabers, Blasters and Jedi powers to wreak havoc on the Imperial Pigs!
– Keep playing and level up your birds to improve their skills!
– Unlock the R2-D2 and C-3PO bonus levels
– In-app purchase unlocks 40 Dagobah Challenge Levels with Jedi Master Yoda
Also check out the other interesting version of Angry bird Android App :
– Angry bird android app
– Angry Bird Space App
– Angry Bird Cherry Pick Season App
– Angry Bird Piglantis App
– Angry Bird Halloween App

Angry Birds Star Wars App is one of the Best Android App for your android mobile. This free android application is listed under arcade & action apps in Google Android Market. The app has 1,000,000 – 5,000,000 downloads since its launch. The latest version of this android app (version 1.0.1) was released by the developer on November 8, 2012 and requires ANDROID version 2.2 and up to be installed on your android device.
This android app is rated 4.5 with 42,049 reviews at the time of writing this post. This android app will require approx 44 M of free space on your device for installation. Download this best android app for free from Google android market.